Experience, History & Dedication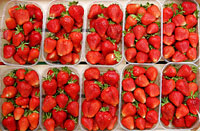 Experience

Triple Star's team has over 100 years of combined experience in the movement of time-sensitive, perishable freight. What this means for our clients is that we've encountered and solved any problem imaginable when it comes to hauling freight. In 2005 our management team's experience and skill were rewarded by being named one of Canada's 50 Best Managed Companies.

Our team's longevity in this business is really a testament to the carriers we work with – they are the best in the business. Believe us - it's no mistake. From the start of all relationships with carriers we perform all the necessary reference checks to ensure that our client's freight is being hauled by the safest and most dependable carriers out there. And just like we make it a point to keep our clients coming back for more by providing tailor-made service, we do the same for our carriers.

History

Adam and Manny started out at the Ontario Food Terminal where they learned everything they ever needed to know about produce and transportation. The most important lesson learned however, was that in this business you need to show up and give 110% everyday because a lot of people are counting on you to get the job done: farmers, drivers, stores and supermarkets, and most importantly people and families. This lesson has been passed on to the entire Triple Star Team and with every load we give 110%.

Dedication

There would be no Triple Star without our clients. We are dedicated to providing customized service 24/ 7, 365 days a year. We make it a point that you always speak with the same person and know that you can call them anytime and anywhere. We follow your lead, if you want daily email updates on loads, we'll email; if you want two updates a day by phone, we'll call. Our goal is to please and to keep you coming back for more.

Triple Star brings dependability back to freight forwarding. Call or email us today to learn more about our company and what we can do to assist you.

We're looking forward to hearing from you.