Carrier Central: Get Live Loads and more for FREE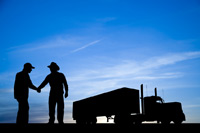 Let Triple Star Logistics make finding loads easy.
When you join Carrier Central you get access to our realtime loads, listed 24x7 on our website. You also get a list of available loads e-mailed to you every morning, and the ability to post your truck. Best of all, it's FREE.
Carriers love our guaranteed
No Fee Quick Pay system...
All payments made in 24-hours or less!
What are you waiting for? Sign up for Carrier Central now!