Triple Star Logistics: Your partner in an exciting career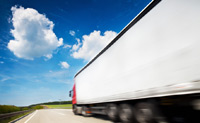 When you're buying produce at the grocery store do you ever think about how it got on the shelves? 100% of the time it got there on a truck. As a leading 3rd Party Logistics Company specializing in the movement of perishable freight, Triple Star is a key player in making sure there's food to buy at your favourite stores.
If you like to negotiate and build relationships, you want to join our growing team. Located Downtown Toronto, Triple Star has weekly foosball and pool games, regular office lunches and a down-to-earth environment.


Who we are looking for…
If this describes you, then we want to hear from you:
Smarts: You know stuff and think on your feet.

Communicator: You're smooth as silk in both written and verbal communications.

Doer: You get things done. Period.

Creative: You are able to think of things in new ways and come up with new possibilities.

Reader: You are up to speed on markets, trends, partners, etc. You have a strategic understanding of the landscape.

Detail-oriented: When it comes to deals, the devil is in the details. You get this and sweat every last one.

Structured: You know how to run a well-organized deal process and pipeline.

Stamina: You can handle lots of opportunities at the same time.

Closer: You can bring deals from lead to a successful close.

Service-oriented: We've been at this a while, and our culture of "executing extraordinary experiences everyday" has been the key to our success. We want to make sure you will fit well with that mindset.

Experience: 2-3 years of relevant deal making experience in either a business development or customer service role.
What you will be doing…
As a salesperson and dispatcher, your focus will be on offering Triple Star's brokerage services to carriers and clients. You will generate leads through industry approved databases and referrals. Your end-game is to establish, develop and retain partnerships with carriers and clients by providing them customized freight solutions.
More specifically, that means:
Sourcing: Actively adding new opportunities to Triple Star's partner pipeline.

Qualifying: Whittling down carrier and client opportunities by using criteria set by Triple Star.

Closing: Bringing partner discussions to a successful close and a signed deal.

Communicating and Servicing: Tracking all shipments on the road and forwarding the information to clients in real-time.

Problem Solving: Pro-actively addressing issues as they occur.

Researching & Negotiating: Knowing daily freight rates and capacity to effectively negotiate with clients and carriers.
What we offer…
A competitive base salary in addition to a generous commission structure. When a specific sales target is achieved benefits are included in the compensation package.

Free Parking.

Centrally located office that is accessible via TTC, GO and car.

2 month intensive training program for all new recruits. In the goal of promoting successful sales calls, all recruits will learn every aspect of the business prior to cold/warm calling.

Great Company Culture.
Triple Star's on a mission to be the new standard for perishable freight brokers. We are five years in with over 100 years of combined experience and we're just getting started. Business Development will be a key driver of our long-term growth. This is an incredible growth opportunity for the right candidate. You will work directly with the senior leadership team and deliver partnerships that will help put fresh fruit and vegetables in North American homes.
If you believe you can deliver what we're looking for, we want to hear from you. Send us your resume and include links to your online profiles and tell us why this is the dream role for you.